Chablis remains one of the best bargains in the wine world. Though the past few years have brought devastating frosts and hailstorms to the region and available quantities have plummeted, winemakers have only gently raised prices. Where village level white Burgundies from the Côte d'Or quickly push past $60, fine Premier Cru Chablis can still be had for under $40.
And despite Mother Nature's best efforts at complicating viticulture, the wines of Chablis have never been better. A case in point is today's 2015 Chablis 1er cru "Les Forêts" from the Domaine Jean Collet — it shows a lively palate and smooth, mouth filling texture. With only a whisper of oak, winemaker Romain calls the 2015s "fleshy," and we have to agree — their roundness makes them irresistibly drinkable today.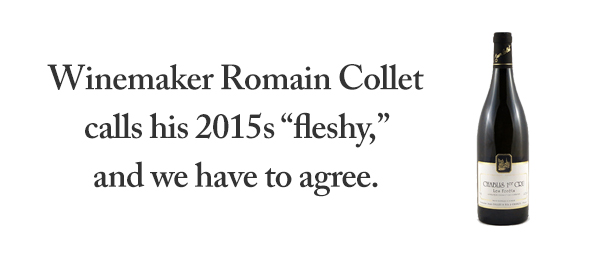 Romain Collet took over the winemaking at his family's domaine a few years ago, and the result has been a jump in both quality and consistency. He avoided the over-oaking trap into which many young winemakers fall, explaining that while oaky wines can be good, "they're just not Chablis." Burghound (Allen Meadows) as taken note as well, adding Collet last year to the selective list of winemakers he reviews.
This wine has lots of everything — lots of richness, plenty of acidity, loads of fruit, and all in perfect balance. Burghound awarded 91 points, finding "notes of citrus peel, apple, sea breeze" and "impressive richness." We expect this to drink well for a few years to come, but it's awfully hard to have just one glass today.
____________________________
Collet Chablis 1er cru "Forets" 2015
Ansonia Retail: $42
6+ bottle price : $36/bot


FREE EAST COAST SHIPPING ON ANY 12 BOTTLES