The 2015 vintage turned out excellent red wines all across Burgundy. From the Beaujolais to Dijon, and from simple Bourgogne to illustrious Grand Crus, the 2015s are worthy of all their considerable praise. Their perfect structures hint at long lives, but their fruits make them simply delightful today.
In lesser years, young reds of the Côte Chalonnaise can be a bit tough. But the 2015 summer's generous sun shone everywhere in Burgundy and the 2015 reds from here are polished, delicious, and a bargain.
Our current Côte Chalonnaise favorites come from the Domaine Desvignes in Givry, where young winemaker Gautier Desvignes has transformed his traditional family domaine into a source for excellent, refined red Burgundy.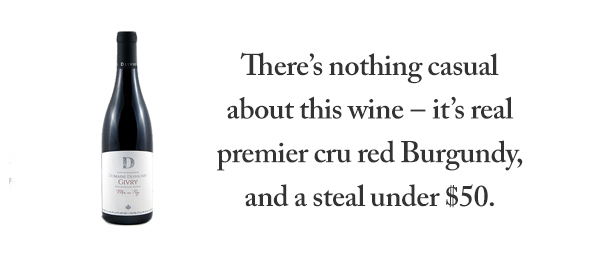 Many readers have picked up the village level 2015s — Meix des Ouches and Champ la Dame. Today we're releasing one of Desvignes two 2015 Givry Premier Crus: the Clos Charlé. This cuvée always shows more refinement than the rugged and hardy village level wines, but in this year it's an even larger step up.
The Clos Charlé shows much of the same intense cherry fruit as the village reds — think wild cherries, cassis, minerals; and vibrant, crackling fruit. But with the jump in classification comes more secondary notes: pan drippings, cloves, anise, spice, and toast mix effortlessly with the fruit to form a truly refined red Burgundy.
We often describe Desvignes's village wines as a cross between the sophistication of Pinot Noir and the insouciance of Gamay. But there's nothing casual about this wine — it's real premier cru red Burgundy, and a steal under $50. We expect these to drink well over a decade, but there's little chance you'll be able to keep them that long.
____________________________
Desvignes Givry 1er "Clos Charlé" 2015
Ansonia Retail: $40
6+ bottle price : $35/bot


FREE EAST COAST SHIPPING ON ANY 12 BOTTLES