Chambolle Musigny is best known for three famous terroirs: the Grand Crus Musigny and Bonnes-Mares, and Premier Cru Amoureuses. All three fetch prices north of $500/bot, and are among the jewels of many serious collectors' cellars.
But the undisputed fourth-best terroir in the town is Les Fuées, a premier cru immediately next to Grand Cru Bonnes-Mares. And it's here that today's wine originates. Our new Chambolle source the Domaine Boursot has remarkable 75+ year old vines in Fuées, and their wine is extraordinary. It doesn't come cheap, but greatness rarely does.
(We usually don't use the words "fourth-best" to sell readers on a wine, but this is Chambolle, so even 24th-best would be special.)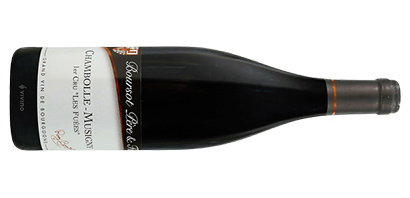 We discovered the Boursots via a note from Vinous's Burgundy reviewer Neal Martin, who writes of a "foundation for a promising future," and describes Boursot's wines as "superb," "excellent," "very fine," and "worth seeking out." In the 2018 Fuées Martin found "lovely red currant, wild strawberry and undergrowth aromas," calling it "fleshy toward the finish, which displays admirable precision."
Boursot's Fuées marries power and gracefulness in a way only a Chambolle vineyard can. The nose is dark and brooding, with cassis, violets, and gingerbread. The mouth is huge and intense — today it's bold and impressive; in a few years it will be refined, elegant, ethereal, and smooth.
JF Mugnier's Chambolle Fuées goes for around $450/bot, we're certainly not saying Boursot's would win in a prizefight. But pound for pound, at 1/3 the cost, it more than holds its own.
____________________________
Boursot Chambolle-Musigny 1er "Fuées" 2018
bottle price: $125

FREE EAST COAST SHIPPING ON ANY 12 BOTTLES