Maranges is the Côte d'Or's forgotten appellation. In the past it was known for its unrefined, tannic wines — Burgundians used to call it "le medecin" (the doctor) because some secretly blended it into thinner Côte d'Or reds to bulk up weak vintages.
But today its reputation needs revision. Advances in winemaking and warmer summers mean that Maranges now produces wines of real character and complexity. They never reach the depth or elegance of reds from Volnay or Pommard, but they offer early enjoyment and pleasant texture.
Today's 2019 Maranges reimagines the appellation entirely — it's juicy, smooth, round, and flat out delicious. Not a hard edge in sight.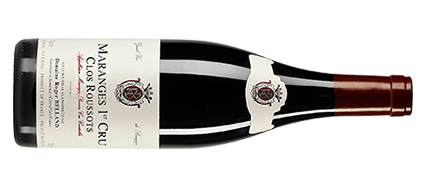 Belland's 2019 Maranges may be a different grape (Pinot Noir rather than Gamay), but it borrows a bit of the Beaujolais's jubilant spirit — think red Burgundy with the soul of a Cru Beaujolais. Burghound loved this cuvée, finding notes of "poached plum and violet" with a "round and plush" mouthfeel and a "sneaky long finish."
The bottle we opened this week with a roasted chicken and potatoes was just about perfect. Lovely young Pinot fruit, hints of savory spice and herbs, all wrapped in a smooth, mouthcoating wine that finishes fresh and clean.
Depending on the source, young red Burgundy can be a bit abrupt; and young Maranges has historically required a fork and knife. But today's is neither — just pure, juicy, approachable Pinot fruit at its best.
____________________________
Belland Maranges 1er "Clos Roussot" 2019
bottle price: $35