On Tuesday we spent the day tasting in the Côte de Nuits, sampling wines from Nuits, Vosne, Chambolle, Morey-St-Denis, Gevrey, and more. We're no terroir skeptics, but it was a stark reminder of the unmistakable power of terroir. Across various producers and vintages, the appellation and villages shone through as clear as day.
Vosne-Romanée is the most famous of these towns, and its terroir produces some of the most subtle and nuanced wines in the world. But it's not a monolith – each plot in the tiny appellation has its own identity. Today we're thrilled to introduce a new wine to the portfolio, a village-level Vosne-Romanée from an exceptionally well located vineyard.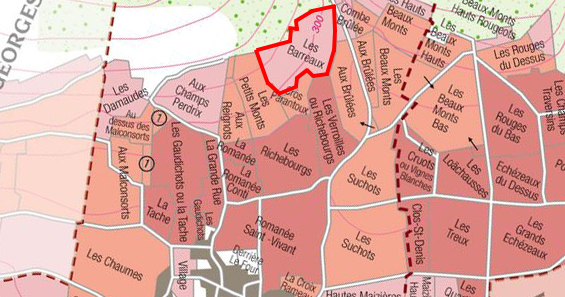 "Les Barreaux" lies atop the slope in Vosne, adjoining the Grand Cru Richebourgs and the Premier Crus Aux Brûlées and Henri Jayer's famous "Clos Parantoux." The view is spectacular, but the wine is somehow even better.
It's one of the only north-facing slopes in Vosne-Romanée, a location that tends to produce middleweight, elegant wines. But in 2020, a year of unprecedented heat and dryness, with balance is exquisite.
This wine blew us away in our tasting last year – impossibly fine and delicate, but with density and length. The shallow limestone soil and unusual exposition balance the extreme ripeness of the vintage, and the resulting wine is a masterpiece. Having tasted it after its arrival in the States, we're pleased to report our initial high expectations were well founded.
Jasper Morris MW had a similar reaction – he gave it 5/5 stars and awarded it 93-95 points, finding "vibrant deep red fruit" and "very good acidity as well." it "really quite a striking Vosne-Romanée," with "superb length." We agree – for anyone with a taste for the magic of Vosne, this is not a wine to be missed.
____________________________
Couvent Vosne-Romanée "Barreaux" 2020
bottle price: $99

FREE EAST COAST SHIPPING ON ANY 12 BOTTLES